Every day we are taking a step closer to getting all chores done online. In such cases, would you still wonder about running into a gym 2miles away? To answer this, here is the fact- Health apps are on the rage! Starting from workout trackers, diet planners, fitness apps, and personal training apps, none of these stayed behind to become a hurdle in your fitness journey.

Yes, the list is endless enough to get you overwhelmed. But we are here to get things simplified and get you out of the everlasting debate of fitness apps VS personal trainer apps.
What are these health apps?
Health apps are applications that you can easily access to track your health. There are specific apps meant for specific purposes such as diet planners, fitness apps, and personal training apps. 
Most of the fitness and personal trainer apps include the diet and food section. Hence, we will delve deeper into these two sections of health apps.
Fitness apps: Fitness apps are your go-to health guiding app. These include fitness trackers such as steps counter, heart rate, basic workout plans, meal plans, and others. Fitness apps can become your best buddy to get you started in your fitness journey. Along with the online community in these apps, you will never lack the motivation to work towards your dream body.
If you are looking for a space to be inspired and work towards a better lifestyle both physically and mentally, fitness apps are designed to provide you so. It is filled with daily inspiration and prompts to develop your overall wellbeing and develop a healthy habit.

Personal Trainer apps: Personal trainer apps are a level up from the fitness apps. These platforms provide you with a specific workout routine in your preferred style like yoga, cardio, running, strength training, and others. These are often guided by an expert personal trainer. Personal trainer apps ensure that you get the experience of having a personal trainer while you stay amidst the comforts of your home.
Personal trainer apps have a more professional outlook when it comes to the overall space. It is specific, catered to your requirements, and has a laser-sharp target for you to work on. If you have any specific target to achieve such as lose weight at a certain time, strength training, yogic exercises, and others, there are programs specifically designed for each one of them.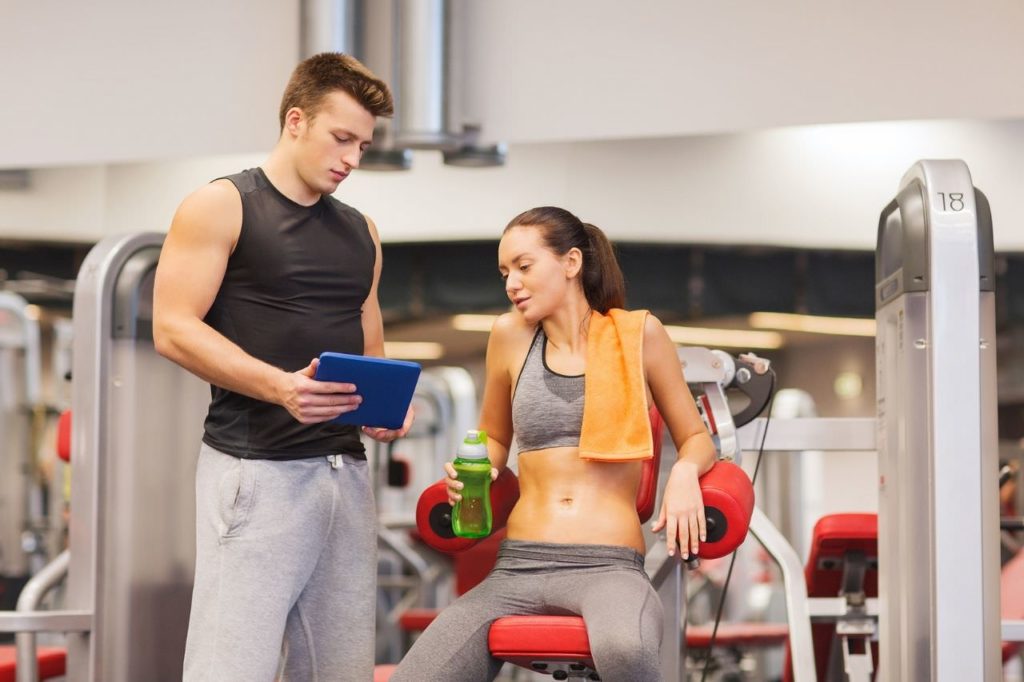 Fitness apps VS Personal trainer apps
This seems like a never-ending debate. While there isn't any conclusion to the fact that which one is better, here are a few pointers we have come up with to help you choose the best one for you.
Programs:
The workout plans and training programs created in fitness apps are much more beginner-friendly. They also come with a wide range of options to give you a taste of every form of physical activity before you niche down to your favorite. These are quick and easy to grasp, perfect for any beginner planning to start their fitness journey.
As the name goes by, the programs in the personal trainer apps are guided through specific expert personal trainers. These are highly target-oriented and focused on getting you results. The videos are either recorded or live hosted by the personal trainer of your choice. Once you choose the plan, it will become consistent until you reach your target.
Pricing:
Being beginner-friendly, fitness apps are much cheaper. The best part is that you can find some of the most renowned fitness apps for free. They provide the basic features to track your fitness goals and stick to your healthy lifestyle.
Some of the features include a calorie tracker, water tracker, workout videos, and support community, all of them form a perfect kit to keep you motivated towards your journey.
Personal trainer apps are slightly towards the pricier end. Since the programs are specifically designed by expert personal trainers, the membership ensures that it can provide quality services to their clients.
The apps also have various subscription plans and membership levels for you to choose from. It makes the selection process easy. Some of them even provide a trial period for you to judge yourself.
Features:
Self-paced, leveling up, no guide, accountability,
Fitness apps ensure that they provide you with all the basic features and trackers. Most of the programs inside these apps are self-paced i.e. you can access them at any given point and pick up from where you left at your own pace. The trackers help you to track your own progress. You can also shuffle between various workout plans such as cardio yoga, etc, and figure out what works best for you.
Personal trainer apps generally come with a certain duration for your programs since the personal trainers manage these. These trainers either host live sessions or upload recorded videos according to your chosen plan and ultimate goal.
They also hold you accountable and track your progress. One of the biggest boons for having a personal trainer app is that your personal trainer will know when you need to level up your game to manifest the best results.
Personal trainer apps VS Fitness apps- which one is the best for you?
To finally answer this question, here are a few aspects that you need to look into-
Are you a beginner at starting your fitness journey?
How much time can you dedicate religiously, if you can at all?
Can you keep yourself accountable? Or do you seek help?
What kind of programs with what intensity are you looking for your fitness goals?
What are the features that you need from your health app?
All these criteria will help you make the best choice for your fitness journey. You can also opt-in for the trial period in these apps and pick the perfect fit for you.
Various apps are catering various fitness needs. You may want to keep an eye on our next blog where you present our top picks in personal trainer apps both for android and IOS for various fitness goals.