Let's admit it. Finding that perfect personal trainer is not only hard, but also very intimidating! With such a wide range of options from gyms, online platforms, social media, etc., picking up the one is a task. But the question arises, what difference does it make at all by hiring a personal trainer?
In simple terms, a good personal trainer can make or break your transformation journey. They can help you achieve your desired goals within the set time ensuring that you don't feel burnt out. So, how to go about that hunt? Let's figure out what do you need first.
Setting the criteria's:
You can browse through the internet the whole day still end up disheartened. To ensure that you are looking in the right direction, it is important to understand what you are looking for:
Goal: What goals do you have? Do you want to lose or gain weight? Strength training? Prepping up for a tournament? There are personal trainers specialized in various departments. So, make sure you know in which department you seek help.
Experience: Are you new to personal training? Or did you go through personal training sessions before? This can become a ground-breaking factor to pick the right personal trainer.
Style: What style of training do you seek? Do you need a trainer who can motivate you even on your low days? Or someone who can give tough love to you? Keep a note about that.
Certifications: There are various personal training certifications. Ensure that you have the basic knowledge about them. Have a thorough check about these certifications on the personal trainer's profile.
Fees: Everybody wants to hunt for the best. But before you hit the play button, ensure that you have fixed a budget for yourself. Looking for the best in your budget is the wiser option.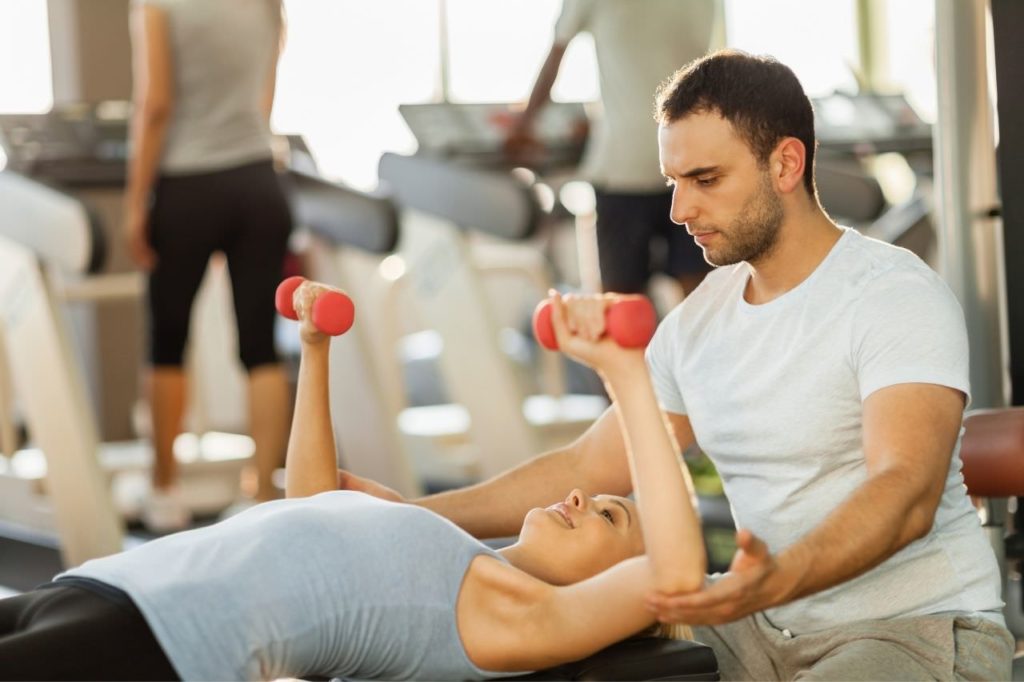 Where can you find personal trainers?
Let's delve deeper into the 5 categories from where can you find personal trainers perfectly fit for your training:
Gyms: The gyms near you may have the best facilities for personal training It is always wise to look around your community first, as you can have a better idea. Hunt down for the top-rated gyms in your community and start looking into their personal training programs. Select your trainer upon the categories set above. If you are already a gym member or were a member before, your insights can be extremely helpful for your selection. You can even join the regular gym first in case you feel doubtful. After a few days, you will have an in-depth idea about the members and the ambiance around the gym.
Youtube: If your hunt is going on the online platforms, youtube can be extremely handy. Many individual personal trainers have their own workout videos on youtube. It will help you to gain an idea about their training techniques and their personality. You can then opt for their paid programs as per your choice. Some top-rated personal trainers also host free workout challenges over a certain period. If you are still wandering around the fence, you can opt for these free sessions over youtube itself to try. Once you are convinced, you can avail of their paid programs to gain the maximum benefits.
Instagram: Instagram is an excellent platform to understand your trainers better. You can get the list of top-rated personal trainers on your required goal by just searching. All their certifications, client testimonials, lifestyle, food habit, is visible on their public accounts. Over Instagram, you can get an in-depth analysis of their price rates and payment plans. It will help you get a better idea about your options under the fixed budget range.
Upwork/Fiverr: These two platforms contain a wide range of freelance personal trainers. You can register on these platforms and search for personal trainers. They will provide you with a list of best-fitted personal trainers as per choice. It will include their bio, personal details, certifications, testimonials, and their rates per hour. Having an hour session will help you understand whether you want to go forward with them or not. This becomes difficult on other platforms since most of them either have monthly plans or packages.
Social media communities: Social media communities such as Facebook groups, telegram, and other community platforms can provide you with an upper hand over your selection process. You can join groups which are specific to personal training and can observe a lot of personal trainers at once. The other group members can provide you with their experience and opinion. It can ease up your process to select your personal trainer.
Is it even worth the investment?
Hiring a personal trainer may seem like a luxury when you are on a tight budget. In the states of U.S., the average rate for personal trainers is 80-125$. Unless you are sure about your transformation journey and ready to take the next step, investing in personal training may not be the best option for you.
So, how to ensure that do you even need that kind of an investment? Here are a few points that can help to make that decision for you-
There are no visible results despite putting in your 100%. A personal trainer can exactly guide you out of your unknown mistakes. 
You are a beginner, and you have no idea where to start your transformation journey. 
From personal point of view, you need someone to hold you accountable and motivate you regularly. 
You want to increase your strength level and get challenges under supervision. 
Medical reasons – you have some specific illness that you need expert guidance over. 
You are training for a specific competition/program. 
You are no consistent with your training on your own. 
These are a few reasons that you can consider while opting in for a personal trainer. The transformation journey always gets easy when you have someone to guide you in the right direction. So, make sure you make your choice worth your time and investment.