Have you noticed how many companies these days invest a considerable amount of time and money in setting up the 'perfect' workspace? To the inexperienced eye, the process can seem unnecessary. However, studies indicate that the environment in which you work is as important as the kind of work you do.
It's not just big companies. Even if yours is a relatively new startup, having a workplace that is nicely set up has an impact on employees' productivity. A poorly planned workspace may be what's holding your people in your team back from unleashing their true potential.
With everything said and done, the question of the hour is – how does one decide where or how a workspace will be?
The Quality of Your Physical Work Environment Is Important
Running a business involves accounting work, marketing tasks, sales calls, and other such heavy-duty jobs. You may be thinking, how does the quality of a workspace matter when there's bigger fish to fry? Well, the physical environment you operate out of is proven to impact productivity and quality of work. An organised and pleasant workplace also helps boost optimism.
Alan Kohll, a leadership strategist, states, "We spend almost a third of our lives in the office. In order to find and retain top talent, it's essential for companies to foster an environment that empowers people with the right space to work, think, and collaborate naturally".
One of the first things to consider is the office type. You have an open layout type of floor plan, and then there's a cubicle-type of the layout. Each of them has its own pros and cons. It is up to you to figure out which design is more conducive to your business.
Other than layout, elements such as lighting, temperature, clutter, and sound impact the overall vibe of a workplace. Details such as the furniture, artwork, and the colour of the walls have an effect on an individual and also the collective productivity of employees.
Are you paying enough attention to the physical environment of your workspace? If you think there is room for improvement, it's never too early or too late to revise plans.
The Basic Types of Workspaces
There are many types of office spaces. Each model is better suited for certain types of work. However, if we were to break down some of the most common types of workplaces, the list includes:
Leased workplaces – Many big and small businesses alike opt to lease offices. One of the main reasons for the popularity of this office type is that it is cost-effective. Another advantage is that when you rent a space, you can go about business with a sense of stability. You are allowed the liberty to do the office space as you wish as long as it is within the definitive time frame. Thirdly, leasing incurs less responsibility or costs for business owners than buying the space/building. The upfront cost for leasing an office place varies, but it isn't much (on average). 
Owned Offices – Some businesses opt to purchase rather than lease office space. This practice is especially common for established companies who have clear ideas about the kind of work they do or the kind of a workplace they require. That and having a pretty clear idea about future needs make it feasible to own rather than lease a workspace. Plus, if you have a surplus of office space, you can always lease unused space to other corporate establishments/tenants. This way, you have a source of side income.
Coworking spaces – The rise in the number of freelancers, entrepreneurs, and startups have heralded an interesting type of working physical environment – coworking spaces. They are cost-effective, flexible, scalable, and provide reasonable grounds for networking.
Residential working spaces – Many of today's well-established businesses have their origins in residential spaces – garages, basements, and spare bedrooms. It may not be the most feasible long-term solution, but it is cost-effective, especially when your business is new and you are on a budget.
There are plenty of other workplace options. It will benefit you to research them when deciding on what type of office space to settle on for your startup.
Tips on How to Choose the Right Workspace for Your Business
As pointed out earlier, coworking spaces are becoming increasingly popular, and understandably so. Operating your business out of a coworking space allows you to economise. Plus, it is an excellent platform for your employees and yourself to network with people in businesses who are sharing office space with you. However, it is not all sunshine and roses. Critics are often apprehensive about coworking spaces. They ask, "Are coworking spaces conducive for creativity?"
Many businesses these days appear to be fans of an open office layout. They believe that such a layout boosts a 'transparent' working culture. Nonetheless, there are studies that are of the view that an open office layout negatively impacts employees. The basis of this conclusion is that in such an environment, the chances of distraction and background noise are high. These factors can lead to emotional exhaustion and higher stress levels at the workplace.
However, like everything else, the debate about whether coworking spaces are ideal for businesses has another side. Other studies conclude that 74 percent of employees who work out of coworking offices report higher productivity.
Choosing the right type of working space is crucial, but each type serves a better purpose for different businesses. Therefore, the type of working space you settle on is your call.
However, certain guidelines are universal among all 'good' workplaces. Some of them include:
Office Amenities
Coworking spaces often come with standard office equipment. If you're leaning towards this office type, you may want to ask about additional details such as projector, charging, and whiteboard facilities. Also, enquire if the charges for meeting rooms and printing services are inclusive in the membership costs. You may also want to look into whether your business has access to the phone booths, kitchen, pantry, and other private spaces in the office.
The Workshop Cafe, which is located downtown of San Francisco, is home to a vibrant bunch of tech and art lovers. This coworking space comes fitted with everything, from Apple TVs and video monitors to meeting rooms that can house up to 10 people. The cherry on top of the cake is that you can order food and have it delivered to your desk, simply by using the cafe's app.
Atmosphere
With the surge in the number of coworking spaces, it won't be challenging to find one that meshes with your aesthetic goals. Keep your focus on finding a space that encourages creativity, productivity, and one that allows meaningful networking.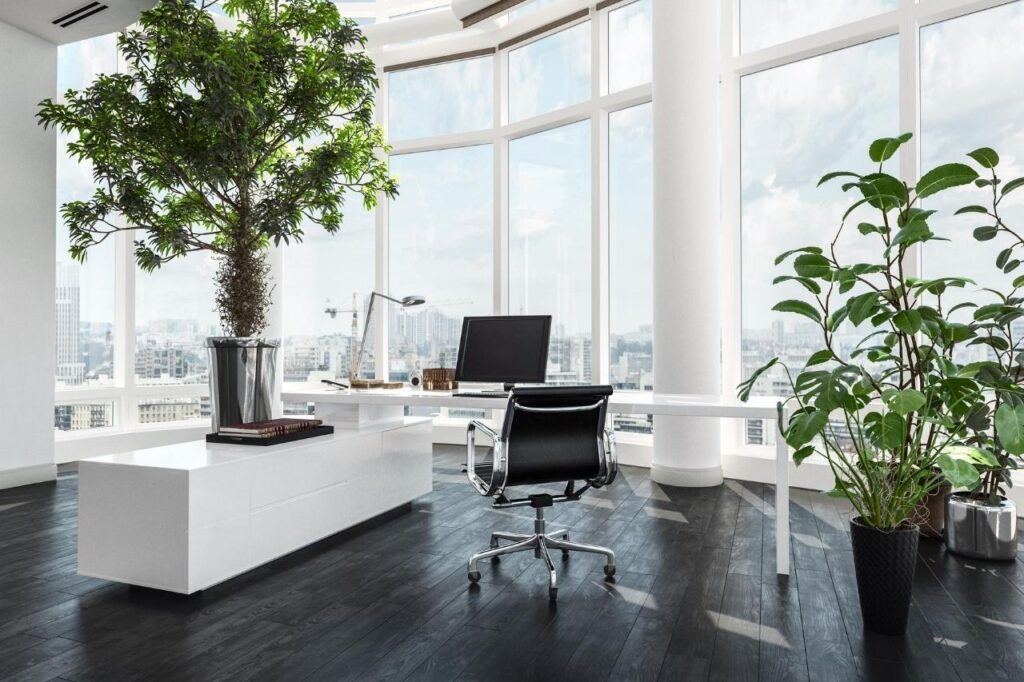 Downtown Austin is home to 'Industrious,' which is a coworking space that prides itself on its sleek interior, artisan food, windows that go from floor to ceiling, and craft coffee. 
Office Environment
Most times, it's the little things such as the lighting, noise, moisture content, and temperature of an office that decides employees' productivity. You don't want employees distracted by excessive background noise, or extreme room temperatures while they try to get work done.
During the process of selecting a coworking space, take Luxafor Meteo along while location scouting. This handy gadget proves useful when assessing whether a place is adequately cooled or heated and well lit. It also provides information about if the place has healthy CO2 and humidity levels. The Luxafor Meteo is also helpful when you want to figure out a productive work spot – a place that is adequately lit, with good air quality, and minimal noise distraction.
Green Spaces is an exemplary coworking space in this regard. It is located in the pulse of Denver's art district. Staying true to its 'sustainable' tag, it is adorned with plants and boasts open spaces that invite plenty of natural light. This coworking space also features cosily lit spaces for people who prefer working in such an environment. As if all the above selling points aren't appealing enough, Green Space gives us yet another bonus – it is pet-friendly. 
Flexibility
A recently conducted survey states that about 80 percent of employees reported feeling more productive when they moved around a bit while working. Most working professionals today, regardless of their industry, say that flexible working hours or work location boost their mental well-being and overall productivity.
If you fall under this category of working professionals, check if a coworking membership plan allows you to move around or if it is limited to one seat. If you have to commute, attend back-to-back meetings, or work while on the go, you may benefit from DropDesk Pass. It is an excellent option for entrepreneurs working on a budget or remotely. 
For 39 dollars, DropDesk Pass lets you access coworking and pop-up workspaces in whichever country you are. With this app, you can also get insight into great coffee places anytime between 8 to 5. 
Privacy
One of the strongest pulls about coworking spaces is that it is an excellent networking field. With the right approach, you can link with someone you share office space with and strike up deals to collaborate on fruitful projects.
25N is a modern coworking space that has its foundation on innovative interior design. Their umpteen meeting rooms and spacious conference tables encourage creative collaborations. 
On days when you feel that the activity around you is hampering productivity, utilise their movable walls. You can also make use of noise-cancelling headphones from Luxafor to drown out the chatter around you.
In the mood to network? Use the Luxafor Flag to indicate when you're open to chatting or when you're caught up in work and don't want to be disturbed. 
Other Perks – Good Coffee and Food, to Name a Few
It's not just about finding a workplace that encourages productivity. A 'good' working space also takes the mental and physical well-being of its residents. That being said, most workplaces offer separate rooms for resting (even for children), to practice yoga and other physical activities, outdoor patios, and gym areas. Perks such as complimentary tea or coffee are also pretty mainstream at this point.
If you're looking for a working space in downtown Atlanta, the Switchyards Neighborhood Club is a good bet. This coffee bar provides artisanal coffee and has waffles on its breakfast menu and noodle bowls on its dinner menu.
Security
You want a workplace where you feel secure enough to leave your laptop and other belongings laying out for a bit while you grab lunch or take a break. For the safety of your belongings, check the security measures of working space, especially if it remains open throughout the day and night.
Spark, which is located in downtown Baltimore, provides access to your dedicated workspace 24/7. Here, you are also allowed to rent an office for private use and secure it for a team of 1-7 people. Spark also offers concierge services.
Extra Costs
Most coworking spaces come with tons of benefits. Be sure to look into which of them are included in your membership. Also, be upfront and enquire whether using conference rooms and other such services will incur extra costs. Some coworking spaces offer a trial period. This way, you can see for yourself if the membership cost is worth the money.
If you're willing to shell out more cash to ensure the best services, Neuehouse will not disappoint. They have offices in Madison Square and Hollywood. This high-class office space goes for about 150 dollars (communal) to 4500 dollars if you rent a private studio. Here, you pay not only for the luxe working space but also for added benefits such as access to gourmet food and in-house happy hours. Other perks include bike rentals, luxurious conference rooms, space for private events, and art exhibitions, which are in-house.
In conclusion, value for money is vital when choosing a workplace. However, things such as your ideal work environment and your area of business should be considered.