In a scenario such as today, with most of us having to work from home, we find it difficult to focus. This problem is because the setup and environment that we have at home mainly focus on relaxing.
Creating a workspace or a work station will help us in being more productive and focus more on our job. Let us discuss some ideas to achieve this goal. These ideas will guide and help you in setting up a work-friendly space at home.
Create a Space You Enjoy Working In
Think about the perfect work station! Space where there are no distractions, a space that will enhance your focus on the job at hand. Achieving this is not as difficult as you think.
An item that is not of any use in your daily personal life may come in handy when creating your workspace. An example of this can be scented candles that have soothing effects.
We also recommend that you remove any distractions from your home office, such as a gaming device, television, etc.
Here are some factors you need to consider while creating your workspace.
Home Office Ideas On a Budget
One of the best home office ideas, if you are tight on a budget, is to thrift and recycle. After you create a space you feel comfortable working in, find the objects you already have at home.
Make use of the items instead of going to Target or Staples and buying every office decors for your workspace. You can use old jars to keep your pens and other stationaries or even use printed papers to design old boxes.
Once you have recycled whatever items you own, go to thrift shops to get bigger items such as furniture. You can even browse through Craigslist. Opting for the minimalistic approach can keep you from spending more than necessary.
The clearer your workspace, the clearer your mind and more will your ideas flow.
Secondly, there are many inspirational and motivational quotes that you can adorn your workspace. You can simply print it out instead of buying the expensive ones. Along with it being cost-effective, it makes your workspace more appealing.
Furthermore, determine the things you can do yourself before going for the professional route. You need to opt for budget-friendly items.
For example, instead of having to pay a painter to paint your work space, try it for yourself. It is not that difficult of a task to paint, and you save a fair amount of money as well.
Home Office Design And Setup
Your home office needs to be a comfortable and welcoming space where you can enjoy your time and work proactively.
One of the most important factors to consider while setting up your home office is the location. You need to select a location bearing in mind your work nature, working style, and also the people you stay with.
If you require privacy, it is advisable for you to set up your home office in your garden, garage, or even a loft. You also need to make sure to let in enough daylight. Believe it out not, it improves your well-being, creativity, and proficiency.
If possible, choose a location facing the window with natural light and a good view. You can add see-through window blinds to minimize the glare without having to darken the room.
There is another way you can make your workstation warmer and inviting without breaking the bank. All you have to do is get plants and flowers and set it up in your home office.
In addition, an internet connection is a necessity when working from both the home and office. Therefore, when setting up your office at home, make sure to get faster internet. It is cost-effective, and you can do your work without any delay.
Do not overlook storage space when you design your home office. It can significantly have an effect on your work productivity. Ensure to add enough shelves, storage compartments, or cabinets for your office essentials.
Keep the things that you often require within your reach or on your desk. Store away your files neatly inside your cabinet, and arrange your reference books and manuals in a shelf near you.
Small Home Office Ideas
Not every one of us can dedicate an entire room to turn it into a home office. Therefore, the only option is to make do of a small space.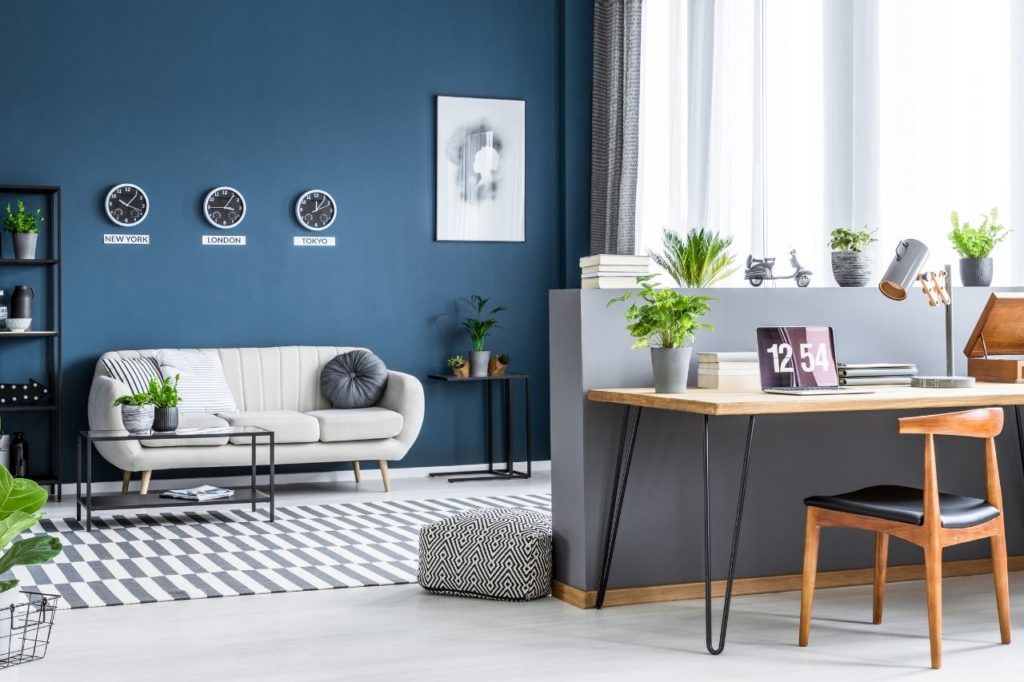 With your creativity and imagination, you can turn any corner or space in your home into a work station. If using an entire room is out of option, there are many other well-defined areas you can use.
For instance, there are usually empty spaces under your staircase. Simply add a desk that will fit the area, or you can even create one out of a shelf.
Another idea for home office is to use an old cupboard and turn it into your home office. Without much of a hassle, you can just open it whenever you have work.
Adding to that, a shelf with a board is advisable to store your keyboard and other office necessities. You can also add pinboards on the inner cupboard doors to pin your tasks list and so on.
With limited space, a small nook or a closet in your bedroom can be a home office. Make use of the wall corner beside your bed.
Furthermore, arrange a storage cupboard to keep your office necessities and essentials. It would be best if you do not mix your personal life with business.
Home Office Desk
It is essential that you have the right furniture for your home office, which is comfortable for you to work on. When you have an office that is tidy, and you feel at ease in, it increases your productivity and focus as well.
You will spend most of your day in your work area. Therefore, you need to make sure your desk is well suited for your work. It should be perfectly sized according to your height as well.
A desk with storage compartments is the best option. Cluttering your desk will automatically make you lose focus on your work. It is best to keep your office stuff inside the compartments and keep your desk tidy.
A desk with a hole for quick and easy management for your cables and wires is advisable. It should also be adjustable and flexible. A well-structured desk is always the best solution.
The environment you work in greatly affects your productivity. Because of this reason, a sturdy, ergonomic desk is most preferable and sought after by many home office workers.
Experiment With Color
We may not notice it, but different colors have different effects on us. For instance, the color green enhances our creativity, while blue has a soothing and calming effect.
Proven studies suggest that strong and bold colors help with jobs that need effort and focus. On the other hand, abstract and neutral colors are a great choice to boost calm and peace.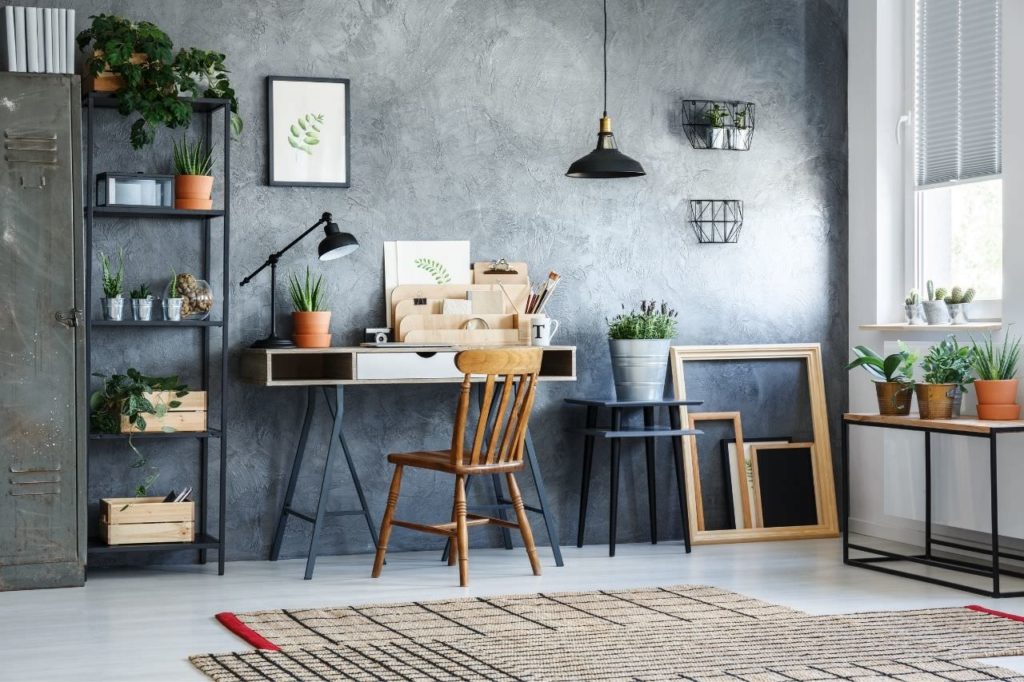 It is preferable that you go for bright colors with polished components if you are looking for inspiration. You can design and color your workspace according to your intent.
Experimenting with colors is essential as it boosts your creativity and makes sure your productivity level is high. Use your free time to plan out a decorating project for your home office.
One of the benefits of working from home is that you get to explore new working styles according to your preference. Your imagination and creativity can help you paint a new perspective for your work area.
Establish Boundaries Between Work And Personal Life
It is essential that you set aside a space dedicated just for your work. Your personal life should not interfere with your work mindset.
However, it is understandable that some people may not have enough space to dedicate a separate work station. A common reason for this situation is because many people share their homes with their family or friends.
In such cases, it is advisable that you choose a specific section of the house like your dining table. If it is difficult to set aside a workspace, you can try using earplugs or headphones with noise cancellation features. It will help you keep your focus on the right track.
When working from home, you can expect continuous messages and video conferences. These things often blur the line between your personal life and the workspace.
To avoid this setback, discuss when to communicate and set a time with your team. Set some essential rules, such as agreeing when a message's response is not needed or expected.
Final Thoughts
We have discussed many home office ideas in the above tips on how to make your home more workspace-friendly. However, these are just some of the many ideas for a home office you can try implementing using your own creativity.
The home office ideas we have mentioned are from a cost-effective perspective. But if you are willing to shell out a little more for your workstation, you can come up with more elaborate designs.